The future of post-covid drinking Ireland, from the outdoor beer garden to al fresco dining under a pergola.
We all miss the bars and restaurants and Ireland has been particularly hit with the lockdown rules as we try to stave off this horrible virus. Whilst some bar owners and restaurants are simply trying to survive, others are planning on the new post lockdown world and keen to get back to some sort of normality.
Ireland, with its poor weather usually meant we huddled indoors to enjoy our pints and meals. Outdoor beer gardens and restaurants were the preserve of our European neighbours who enjoy warmer climates.
Until covid, that is. With the rate of transmission many times higher in enclosed spaces, restaurants across the country have been desperately converting any outdoor space into social distancing-friendly real estate. Irish pubs and restaurants have been utilising their car-parks to expand social distancing options but not all have that option. Smaller bars and restaurants have ended up resorting to putting up fencing and foliage to partition customers and while its a successful solution and they abide by the rules, it is not a long term fix.
COVID-19 has had a devastating effect on the Irish pub and restaurant industry. A few restaurants and indeed bars who diversified have found ways to provide takeaway and dine-at-home offerings, the majority of businesses have shut up shop during lockdown. Again, this is only to ensure some income was going through the business and is not a permanent solution to the post-covid world.
When we do finally come out of lockdown there are several ways in which social distancing and the wider impact of COVID-19 will change the restaurant and pub industry.
Off the back of the current Covid-19 crisis, and WHO advice on how to protect the public to sit outside when visiting restaurants and pubs where possible, proposals should allow for an additional bar area and seating space which will assist during and after the pandemic by increasing opportunities for social distancing.
This will enhance the safety of patrons, allowing them to be appropriately spaced out from other patrons and to access the facilities without have to enter the main building.
A number of businesses here have already developed new beer gardens in order to serve customers outside while maintaining distancing.
Could low numbers become the norm?
Lower customer numbers pose a significant challenge if businesses are to remain financially viable. Irish pub and restaurant owners may consider adjusting prices to increase revenues, but must do so cautiously. Rewarding loyalty, enhancing service and product quality can give customers more for their money and still protect long-term profits. But not all pubs and restaurants have this flexibility and even larger premises have larger rates and outlays.
The key will be to retain customer numbers as they were before corona-virus but do so within guidelines.
Could wooden gazebos and pergolas be the solution?
We have been contacted by several pub and restaurant owners who are keen to plan the post lockdown return to normality seeking information around our outdoor gazebos and pergolas. We teamed up with Dunster House in the UK to design and develop a range of pergolas and gazebos which would be perfect for commercial applications such as beer gardens and outdoor restaurants.
Once they are in place, you can decorate and light them as you wish and fit seating and tables within each structure. This works as a successful social distancing measure and you also cover them with foliage or canvas to keep the rain off. Or you can order our fully roofed solution with a choice of 145mm thick chunky spruce or 78mm spruce. We also have walled off and corner options depending on your layout.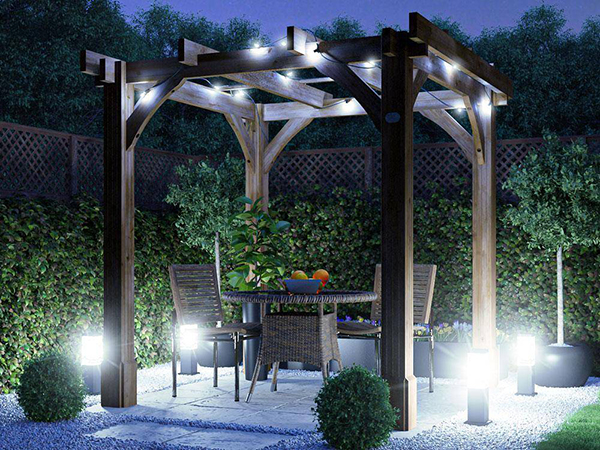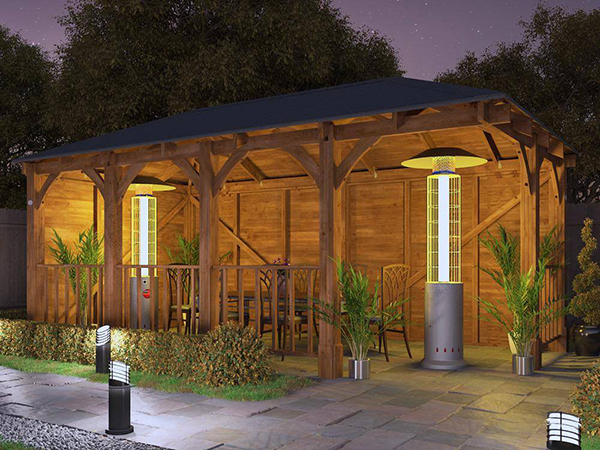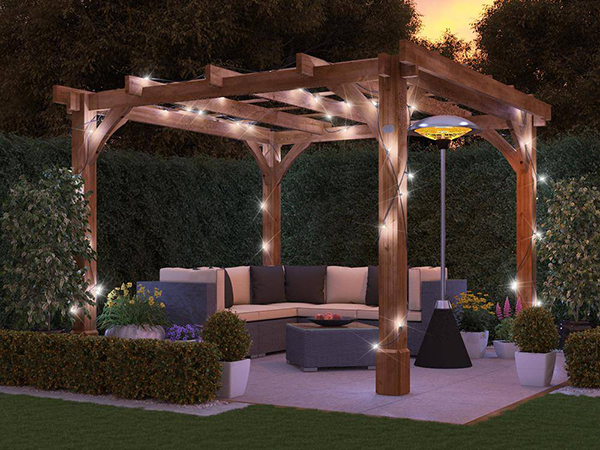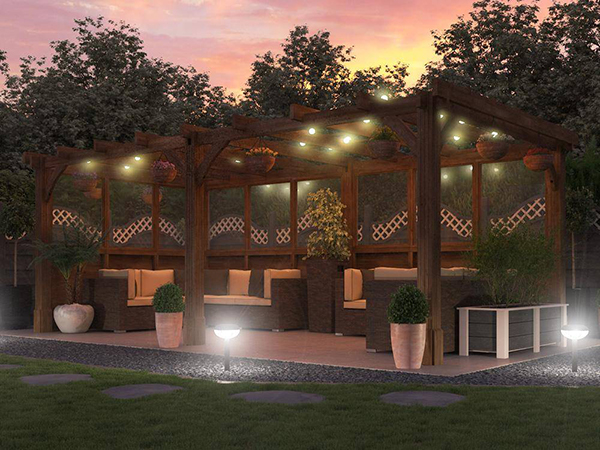 If you need inspiration on how to decorate your beer garden or outdoor restaurant we found this online.

If you want to know more about how you can utilise our gazebos and pergolas in your commercial premises send us an email at info@shedfactoryireland.ie or call our Dublin office on 01 690 2023 or the Northern Ireland number 028 9061 6868 for more details.
I cannot wait to go out and enjoy a pint with friends. : )
Please note there is a 6 week lead-time on large orders.